The Platform in Science and Health starts on page 330 in the chapter,  Science of Being, and consists of 32 different statements from Mrs Eddy.
It begins with this declaration:
"When the following platform is understood and the
letter and the spirit bear witness, the infallibility of divine
metaphysics will be demonstrated."
Marsha Pecaut CS is inviting us all to join her in studying this platform.  She will be taking a section each week for the next 32 weeks.  To participate or to just see what's been discussed go to her website at www.Loveheals.us where you can subscribe for free to get this weekly post.
An introduction to this weekly activity is in the link below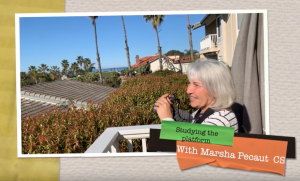 Study the platform with Marsha Pecaut, CS
Come visit our Reading Room garden and join us for Sunday service at 10am
Phone (760) 753 4545
912 S. Coast Hwy. 101, (just South of H Street – across from Starbucks), Encinitas, CA 92024
If you would like to receive information from our Christian Science Society of Encinitas which includes notices about our events and services, please enter your email address to the right in the subscribe window.  It is free, and you will then be sent an email to confirm your subscription.