Church
"CHURCH. The structure of Truth and Love; whatever rests upon and proceeds from divine Principle.
-"Science & Health with Key to the Scriptures" by Mary Baker Eddy
Mission Statement:
The purpose of the Christian Science Society of Encinitas is
to bless our community with healing and spiritual support for all
Click here for Mother Church Membership
You are invited to join us for our Sunday church service in person or on Zoom (click here) every Sunday at 9:30 am PT. (please let us know you are coming if you can). We meet for an hour and then have an open discussion about the week's Bible lesson and/or testimonies of healing and comments and questions about Christian Science.
Our Sunday service is built around our Bible lesson that is studied all week in every Christian Science Church around the world.
Wednesday Testimonial meeting: 
Testimonial meetings are open for all to attend. There is Music and singing, inspirational readings, and you'll also hear fellow attendees share insights, experiences, and healing they've had as a result of their prayer and study of Christian Science.
 We currently are not holding Wednesday Testimonial Meetings locally, but you can find a Wednesday night church service in your area by Clicking here
You may also hear a service online from The Mother Church in Boston by clicking here.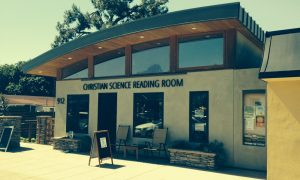 The Encinitas Reading Room is currently open by appointment only.
Phone (760) 753 4545
912 S. Coast Hwy. 101, Encinitas, CA 92024
If you would like to receive information from our Christian Science Society of Encinitas which includes notices about our events and services, please enter your email address to the right in the subscribe window.  It is free, and you will then be sent an email to confirm your subscription.
And here are some thoughts on what Church means to us:
"The Church is that institution, which affords proof of its utility and is found elevating the race, rousing the dormant understanding from material beliefs to the apprehension of spiritual ideas and the demonstration of divine Science, thereby casting out devils, or error, and healing the sick."
– From page 583 of "Science & Health with Key to the Scriptures" by Mary Baker Eddy
"All Christian churches have one bond of unity, one nucleus or point of convergence, one prayer , – the Lord's Prayer. It is a matter of rejoicing that we unite in love, and in this sacred petition with every praying assembly on earth – 'Thy kingdom come. Thy will be done in earth as it is in heaven.'"
– From page 22 of "Pulpit & Press" by Mary Baker Eddy
The purpose of this Church, founded by Eddy, was "To organize a church designed to commemorate the word and works of our Master, which should reinstate primitive Christianity and its lost
element of healing." (Church Manual 17:8)