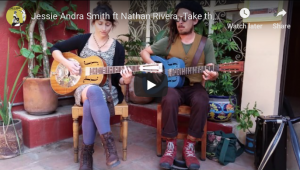 We will be featuring Nathan & Jessie at our next Third Thursday Concert Series.  Music will  start after our Testimonial meeting at 6:00 and Free pizza at 7:00.  Join us for a fun evening of food, music, and inspiration.    Click here to see past music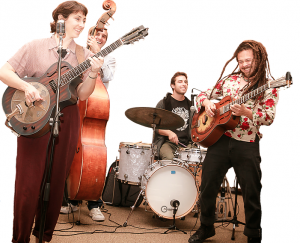 Music with a spirit of beauty, spontaneity, dance, and jazz improvisation!
From the city where the sun shines through the mist, Temecula, California, comes the jazzy folk duo Nathan & Jessie.
Born of the individuals, Nathan Rivera and Jessie Andra Smith, this duo is a unique blend of jazzy folk and blues on resonator guitars and accordion, along with interesting interplay between male and female vocals. Often joined on tour and on recordings by their friends, Trevor Mulvey on Upright Base, and Blake Armstrong on Drums.
Their performances not only include unique all original music, but stories of their travels and interaction with the audience that make for an unforgettable experience. Love of sharing music has taken Nathan & Jessie all over the world, frequenting places like Mexico, Canada, France, New Orleans, and the Pacific Northwest.
The upbeat tunes they write reflect the cultural, emotional, and inspirational images of their life experience and are rooted in the spirit of jazz, improvisation, storytelling, language, and humor.
Testimonial meetings are open for all to attend. There is Music and singing, inspirational readings, and you'll also hear fellow attendees share insights, experiences, and healing they've had as a result of their prayer and study of Christian Science.
Our Third Thursday concert series are an alcohol free and family friendly event.  It's an alternative venue for people to come and hear some great music and have free pizza.
Come visit our Reading Room garden and join us for Sunday service at 10am
Phone (760) 753 4545
912 S. Coast Hwy. 101, (just South of H Street – across from Starbucks), Encinitas, CA 92024
If you would like to receive information from our Christian Science Society of Encinitas which includes notices about our events and services, please enter your email address to the right in the subscribe window.  It is free, and you will then be sent an email to confirm your subscription.