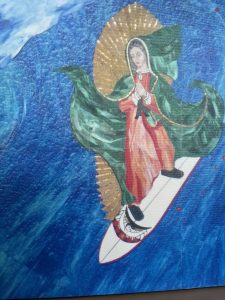 Mark Patterson, the artist of the controversial Encinitas "Surfing Madonna" mosaic,  passed on Sept. 20 of this year.
Mark has been a dedicated member of our Encinitas Christian Science Society from its early days.  As a dedicated life long Christian Scientist he has contributed so much to our church and Christian Science.  Here is an example of his writing. 
Excerpt:

Praying lets me glimpse that if God really is Love, and if God really is power, and if God is really actively present in our lives, then I can be a witness to that. I cling to this idea. You could say I "stand still" with it, because it is a solid Biblical truth. Not an "if it's right it'll work out" kind of thing. No. Solid. It helps me actively look and see what Love has prepared for us, right here and right now.  That's all I need to do: just see what Divine Love has prepared for us……Read full article
If you have a memory of Mark that you would like to share, please post it in the comments below.
Here is one such post from someone who knew Mark very well:
Heard about Mark's passing a few days ago. Sadly, I had not been in touch with him in years. I remember hearing about him some years ago when his art mural made the news all over San Diego County. I had not even known that Mark was a fine artist. Mark never boasted about his talents to me. Though he had many. I believe at one time he worked with some other local Christian Scientists at a computer firm called DataTrek which was located on Saxony Road in Encinitas, which as I recall was where former Encinitas Church members, Fern and Ralph Ritchie used to have their home.
I first met Mark when I was a Sunday School student at the First Church of Christ, Scientist, Encinitas, when it was still located at the corner of Encinitas Boulevard and Balour Drive.  It was a pretty large Church edifice with a good-sized Sunday School and Childcare. The Church had once been located west of Highway 101.  It was moved to the aforementioned address.
Mark was always very kind to me. He had a ready smile and a great laugh. As I recall, he was pretty well thought of by the bulk of the membership.  He was a great organist.  I think he held the position for quite some time. Rick Froese was First Reader sometime during the years that Mark played the organ. The Froese family were also good friends with our family, as were many of the Encinitas Church members.  Encinitas Church used to have membership picnics onsite at the church, and I think even a barbecue or two at one of the local beaches-probably Moonlight Beach, or perhaps Cardiff Reef. Mark also came to our family's home for various celebrations. As I recall, he was there for my High School graduation party. As were many of the Encinitas Church members and Sunday School students.
Mark told me a funny story about his first Sunday morning, or perhaps Wednesday evening, as organist at Encinitas Church. As I recall the story, he had gotten to church early, to practice before the service, and had gotten quite comfortable sitting at the organ. He had taken off his shoes, and was immersed in his practicing. When he was through practicing, he decided to leave the auditorium and go out into the foyer/entryway. So, he's strolling leisurely up the side of the auditorium thinking that it was still early. He then notices the auditorium is pretty full of people, and they are looking strangely at this new guy strolling around the church in his stocking feet! I had not thought of the story in a while, and I treasure the memory of Mark's sharing. He told it with a smile and chuckles.
Mark's presence in our world is dearly missed. I find comfort in a passage a Christian Scientist friend shared with me a few years ago:
"Where God is we can meet, and where God is we can never part."
Source: The First Church of Christ, Scientist, and Miscellany  page 131:20-21, by Mary Baker Eddy.
Best regards to all,

Thank you Jeff.  
If you would like to share a comment please reply  below.