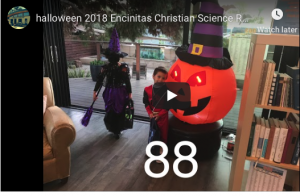 It was a good time for all that came in to see us at the Reading Room and we welcomed in over a 1000 friends from our community.  We are always here to support your health and happiness.
Enjoy the video of all the great costumes. If you see a picture that you would like, email us at christiansciencenote@gmail.com.
Tell us what number it is and a brief description of the costume and we will email you back with the photo.
Also bring your family back to the Reading Room this month on the third Thursday, November 15, for Free pizza and live blues by Nathan James. Its a fun event for the whole Family.  More Info

Our Third Thursday concert series are an alcohol free and family friendly event.  It's an alternative venue for people to come and hear some great music.
Phone (760) 753 4545
912 S. Coast Hwy. 101, (just South of H Street – across from Starbucks), Encinitas, CA 92024
If you would like to receive information from our Christian Science Society of Encinitas which includes notices about our events and services, please enter your email address to the right in the subscribe window.  It is free, and you will then be sent an email to confirm your subscription.