Helen earned her Master's degree in Biblical Studies in 1998 at thePacific School of Religion, one of nine seminaries that belong to the Graduate Theological Union in Berkeley, CA. After earning her degree, she spent four years as Director of the Foundation for Biblical Research in New Hampshire which provided workshops for lay people conducted by leading Bible scholars, as well as professional development opportunities for clergy and other church leaders. This was followed by 16 years of teaching the Bible to Christian Scientists throughout the country, including three years of teaching the Bible and Christian history at Principia College. She has been editor-in-chief for an ongoing Bible study curriculum series for the past decade with the nonprofit, Bible Study Seminars (https://www.bibleandspirituallife.org).
LINDA BARGMANN
For over 15 years, since the opening of the Mary Baker Eddy Library, Linda has researched all aspects of Mary Baker Eddy and the early workers/early churches, an ongoing project she calls "In Mrs. Eddy's Day." She also operated or assisted the management of the nonprofit Bible Study Seminars for over 20 years, and still maintains a great love for the Bible. Linda is a lifelong Christian Scientist who grew up in California but now lives in St. Louis. She and her husband Clarence are both CPA's and had a tax practice since 1982. After 10 years as business manager of Principia School, her retirement includes volunteering during tax season for AARP and other Taxpayer Assistant Programs. As a foster parent, she and Clarence cared for a dozen children and adopted one very special little boy, who is now at Principia College. She also has a married daughter with teenage grandchildren in California, and is deeply involved with several kids currently in high school and College, which keeps her hopping.
Details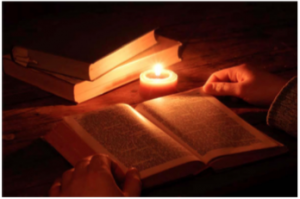 9:00-9:30 Check-In
9:30-12:00 Morning session – All are Welcome – "The Translation Story of the English Bible – From Earliest Manuscripts to the King James Version and Beyond" – Helen Mathis
12:00-1:00 Lunch – Bring your own brown bag lunch. Water & dessert served.
1:00-3:30 Afternoon session – Designed for students of Christian Science – "Use of Bible translations and the evolution of Christian Science church culture in Mrs. Eddy's Day" – Linda Bargmann
​Please bring your favorite Bible translation.
Cost:  Suggested donation $20.00 per person.
To Register: We need a count for snacks and hand-outs.
To RSVP and/or ask questions, please contact Linda Bargmann at LBcpa@charter.net or 314-229-3034.
Location:
First Church of Christ, Scientist,
6165 La Flecha
Rancho Santa Fe, CA 92067