Fallbrook, CA – The law of harmony and Christian Science healing
Date
Saturday, March 3, 2018
This event starts at 11:00 AM.
Josh Niles, Speaker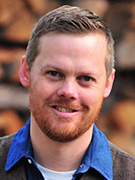 Niles didn't know how he was going to make it another day, let alone another seven weeks. He had just finished his first week of Army Ranger School – an intense combat leadership course which has been called "the most physically and mentally demanding leadership school the Army has to offer." He was exhausted and had no idea how he could continue.
But then, during a non-denominational Christian church service, something happened. As they sang hymns together, Niles felt the presence of Love. He'd learned from reading the Bible that God is Love, and what he felt during that service was definitely divine. It was the all-embracing presence of God, and it reminded him that he wasn't on his own having to muscle his way forward. God, Love itself, was actually leading and supporting him. This new understanding enabled him to complete Ranger School successfully.
What Niles felt that day wasn't just something special for him, but a divine law or rule that governs all our lives, just like the principles of math unfailingly govern the relationships between numbers. It was God's law of harmony. Find out more in this lecture. Niles is a practitioner and teacher of Christian Science healing.
Fallbrook Public Library
124 S Mission Rd
Fallbrook, CA 92028
Child care provided.
Contact Information
(760) 468-5544
http://prayerthatheals.org/fallbrook