Listen to how this individual overcame a physical pain she was experiencing in her leg.
One day, after a wonderful day of Christian Science nursing training, I was walking back with one of my classmates when I felt my left leg hurting a bit. I wasn't able to move it as freely as I normally could. I didn't think too much of it at first and carried on with some activities as I got back home.
After praying for a while and feeling mentally clear, rightly standing up mentally for what was true of God and God's creation, I went to eat dinner with friends. After dinner, I did some work and was still praying all the while—calmly acknowledging harmony as a law and spiritual existence as the only existence.
However, suggestions such as "This could get worse," or "Maybe you won't be able to perform in class tomorrow," started coming to my thought…………Click here to read more or to listen
We have a searchable data base with thousands of testimonials of healing that have been recorded.  Find more testimonies of healing like this one by coming to our Reading Room or go online to JSH-online.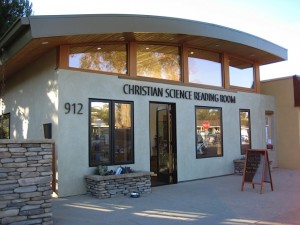 Encinitas Reading Room
Phone (760) 753 4545
912 S. Coast Hwy. 101, (just South of H Street – across from Starbucks), Encinitas, CA 92024
If you would like to receive information from our Christian Science Society of Encinitas which includes notices about our events and services, please enter your email address to the right in the subscribe window.  It is free, and you will then be sent an email to confirm your subscription.