Leg trouble gone – A testimony of healing from the Christian Science Sentinel
Leg trouble gone
By Cheryl DeSanctis

One day, after a wonderful day of Christian Science nursing training, I was walking back with one of my classmates when I felt my left leg hurting a bit. I wasn't able to move it as freely as I normally could. I didn't think too much of it at first and carried on with some activities as I got back home. However, suggestions such as "This could get worse," or "Maybe you won't be able to perform in class tomorrow," started coming to my thought.
I realized I needed to address these thoughts prayerfully and not just allow them to reside in my consciousness. So I sat down in my room and quietly prayed to counter these suggestions with spiritual truths about God and God's creation, which included me. One truth that came clearly to thought was that this issue of pain in my leg was not an actual physical condition; it was only a mental suggestion. I affirmed that harmony is a spiritual law and that there is no other power or might that could disrupt harmony and love in the kingdom of heaven, which is the only true realm and reign.
After praying for a while and feeling mentally clear, rightly standing up mentally for what was true of God and God's creation, I went to eat dinner with friends. After dinner, I did some work and was still praying all the while—calmly acknowledging harmony as a law and spiritual existence as the only existence.
Then, prayer spontaneously turned into singing and praise. I had started to feel so much love and gratitude for the fact that I'm a reflection of divine Love, Spirit, and that I simply reflect this infinite source. That I'm not limited in any sort of way, but the exact opposite—limitless and free. In fact, the idea that I had a divine "declaration of freedom" was particularly inspiring to me. I rejoiced that because I reflect God, the source of all good, I can only express qualities that are good, such as love, tenderness, creativity, movement, beauty, order, wisdom, joy, etc. As these spiritual truths were coming to thought and giving me a profound sense of joy, I literally started singing and declaring my freedom as a reflection of Love.
I continued singing and praying along these lines and went to bed feeling so loved and embraced. I felt sure of my freedom so deeply within my core, and therefore felt a deep sense of peace and safety from pain. I also denied the belief that there was a beginning and an end to this complaint. There was, in actuality, simply never a physical complaint, only a lying mental suggestion to be destroyed through Christian Science.
The next morning I got out of bed and walked with freedom, as I normally would. I wasn't surprised, but I was reassured once again of God's, infinite Love's, unfailing care and protection, and that all is truly spiritual and good.
From the February 26, 2018 issue of the Christian Science Sentinel
We have a searchable data base with thousands of testimonials of healing that have been recorded.  Find more testimonies of healing like this one by coming to our Reading Room or go online to JSH-online.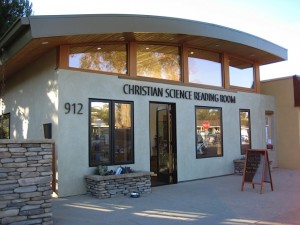 Encinitas Reading Room
Phone (760) 753 4545
912 S. Coast Hwy. 101, (just South of H Street – across from Starbucks), Encinitas, CA 92024
If you would like to receive information from our Christian Science Society of Encinitas which includes notices about our events and services, please enter your email address to the right in the subscribe window.  It is free, and you will then be sent an email to confirm your subscription.