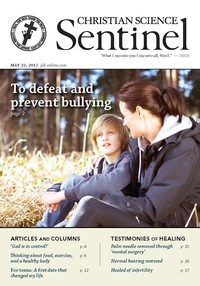 In this week's May 22nd, 2017 issue of the Christian Science Sentinel, read the article by local church member Marsha Pecaut, CS, entitled "To defeat and prevent bullying"  This is a great example of what you can find inside this weekly publication along with numerous testimonies of healing.  Mrs. Pecaut also has a website at www.Loveheals.us where you can find more of her writings and video blogs.
For a subscription to the Christian Science Sentinel and other Christian Science publication go to JSH online.  You can also find at JSH online the Christian Science textbook, Science and Health with Key to the Scriptures, and other writings by Mary Baker Eddy.  Or come visit our Reading Room where we stock all of these publications and writings by Mrs Eddy.  To find a Christian Science Reading Room in your area click here.
For more information about the Encinitas Reading Room go to  www.Mindheals.us
Our location is at:

912 S. Coast Hwy. 101, Encinitas, CA 92024 (just South of H Street – across from Starbucks)
Phone (760) 753 4545
If you would like to receive information from our Christian Science Society of Encinitas which includes notices about our events and services, please enter your email address to the right in the subscribe window.  It is free, and you will then be sent an email to confirm your subscription.