"Spiritual Healing Today" with Chet Manchester and Mary Alice Rose
by Christian Science Joint Lecture Team of Orange County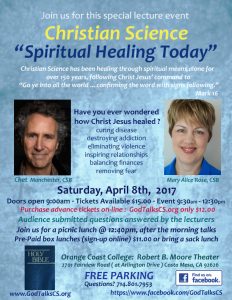 DESCRIPTION
The Orange County Christian Science churches are sharing this lecture day event with the local community and everyone is welcome to come learn about how the Christ Truth has been healing through scientific prayer for over 150 years. Mary Baker Eddy first discovered the ideas and principle behind Jesus' wonderful healings in 1866 after she was healed quickly of a life threatening injury.
This morning lecture event will take place at Orange Coast College on Saturday April 8th from 9:30am to 12:30 pm. The title of the day is "Spiritual Healing Today" and the morning will include talks by two members of the Christian Science Board of Lectureship, Chet Manchester from King Ferry, New York and Mary Alice Rose from Brookeville, Maryland. Music, testimonies of healing, and a question and answer session are also included. Come learn about the spiritual healing of disease, addiction, violence, relationships, finances, and fear through scientific prayer.
.

"Videos of both April 9th 2016 lectures are now available for watching"
Just click the links below.
 
DATE AND TIME
Sat, April 8, 2017
9:30 AM – 12:40 PM PDT
LOCATION
Orange Coast College
Robert B. Moore Theater
2701 Fairview Ave
Costa Mesa, CA 92626