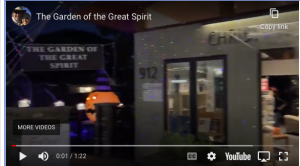 October the 31st can conjure up many images and emotions, but at the Christian Science Society of Encinitas Reading Room, we take this opportunity to reach out to the community and bless big and small with a stroll through the Garden of the Great Spirit. Last year's event had another very large attendance, from both repeat guests that were delighted to be greeted again by friendly faces and big smiles as they made their way through the decorated garden, as well as first time visitors looking in wonder as they read signs of Truth and Love and met with costumed greeters. One such visitor approached to say,
" I really feel the Spirt here" For many, it may be their first introduction to knowing God is Love, and for others it may just be a peaceful respite from what can be a frightening evening, but everyone who came through expressed gratitude either by word or smile.
Some stopped to ask questions about Christian Science, some took literature, but most of all it blessed the community with sharing messages of Truth and also a little fun and a sweet treat. Come and experience it for yourself this Halloween, as we will be back to welcome all to the Garden of the Great Spirit once again.
  Also, put Sunday, November 19th on your calendar this year to come to the Reading Room to volunteer, participate, or just take in the vibe of the day at your local community Christian Science Reading Room as it opens up for the day during the Encinitas Street fair.  When you come, you will find that we are not just passive observers of the event, but instead an active focal point where we interact with the fair goers as they flood through our gate and into the garden to play the God's name game.
Over the years we have become one of the fair's most popular events with hundreds of kids and their parents in tow entering the Reading Room garden to play this game and have a day of Christian Science Sunday school learning the 7 synonyms of God as expressed in the Christian Science text book Science and Health with Key to the Scriptures by Mary Baker Eddy.
Please come and be a part of this community event.  If for some reason you can not attend but would like to support our event,  you may do so by sponsoring 10 kids with their T-shirt prize that they receive after completing the game.  The cost for a sponsorship is $100 for 10 kid's, or however more or less you want to sponsor as the Spirit moves you. To donate please click here.
Spread the word and please let us know anyone who would like to help out.  You are always invited to join us for our Sunday church service at the Reading Room in person or on zoom Sunday morning at 9:30 am PT. To let us know you are coming, please email us at christiansciencenote@gmail.com and we can help you find the link to our meeting. After church we have an open discussion about the week's Bible lesson and/or testimonies of healing and comments and questions about Christian Science.  *Please note: we do not have church during the Street Fair, but we do have the Mother Church service playing on the computer in our quiet study room.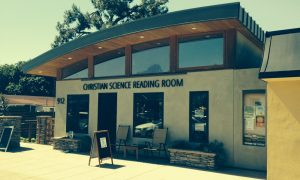 Phone (760) 753 4545
912 S. Coast Hwy. 101, Encinitas, CA 92024
If you would like to receive information from our Christian Science Society of Encinitas which includes notices about our events and services, please enter your email address to the right in the subscribe window.  It is free, and you will then be sent an email to confirm your