"THE GATE BEAUTIFUL"
CLARA SCHRADER STREETER
From the April 1927 issue of The Christian Science Journal
IN the third chapter of Acts, in one of the most interesting incidents of early apostolic days, it is related that one who had been lame from birth was carried daily and laid "at the gate of the temple which is called Beautiful," that he might ask alms of those who entered into the temple. On a certain day, as Peter and John were going to the temple at the hour of prayer, this one lying at the Beautiful gate asked an alms of them, and Peter said to him, "Silver and gold have I none ; but such as I have give I thee: In the name of Jesus Christ of Nazareth rise up and walk." And we are told that "he leaping up stood, and walked, and entered with them into the temple, walking, and leaping, and praising God." And the people that stood by "knew that it was he which sat for alms at the Beautiful gate of the temple: and they were filled with wonder and amazement at that which had happened unto him."
No further description of this Beautiful gate is given in the Biblical narrative ; but in the eastern wall of the temple area in Jerusalem, near the famous Golden gate built in the time of Constantine, may still be seen two enormous jambs, now used as pillars, which appear to be the remains of a very ancient gateway. Tradition calls this the ruin of "the Beautiful gate of the temple," mentioned in Acts, which probably led into the splendid colonnade known as Solomon's porch. Josephus says that the temple had "nine gates which were covered with gold and silver; but there was one gate which was without the temple, and was of Corinthian brass and greatly excelled those which were only covered with gold or silver. The other gates were of the same size, but the Corinthian gate which opened on the east, over against the gate of the holy house itself, was much larger. This last most likely was the gate which is called Beautiful, because it was on the outside of the temple, to which there was easy access, and because it evidently was the most costly."
To the people of to-day the value of this ancient gate, once called Beautiful, lies not so much in its intrinsic merit as an archaeological relic of the past, as in its association with the healing work of the apostles, and in the spiritual beauty which it may be said to symbolize. In this respect the gate Beautiful will remain a living reality long after the traditional pillars in the temple area in Jerusalem have crumbled away, and the place where they now stand has been lost in the debris of the onrushing centuries; for it has become one of the ineffaceable landmarks denoting the progress of the Science of healing, which Jesus and his early followers taught and demonstrated. Yet it was not of the radiance of Corinthian brass gleaming in the afternoon sunshine, nor of the grace of classic architecture which this one who "stood, and walked" for the first time in his life was thinking as he circled round among the people in Solomon's porch. He was thinking of a far more transcendentally beautiful gate, the peerless gate of spiritual healing, which leads into the temple "not made with hands," wherein is seen reflected the perfect man made in the image and likeness of God. As the light from this temple of glorified being streamed into his consciousness, all hereditary, crippled, and limiting beliefs faded away, and "immediately," it is written, "his feet and ankle bones received strength;" for strength always belongs to man, God's perfect spiritual idea. This joyous moment of instantaneous healing is clearly explained by Mrs. Eddy in the Christian Science textbook, "Science and Health with Key to the Scriptures" (p. 14), where she writes: "Become conscious for a single moment that Life and intelligence are purely spiritual,—neither in nor of matter,—and the body will then utter no complaints. If suffering from a belief in sickness, you will find yourself suddenly well. Sorrow is turned into joy when the body is controlled by spiritual Life, Truth, and Love."
It is "at the hour of prayer," of spiritual communion with the divine ever-presence, that this moment of spiritual consciousness comes and brings its mental peace and its physical healing. When Peter and John came to the temple, they were filled with the spirit of prayer and praise because of the Pentecostal blessings which they so recently had received. But they already had shared with others their material riches; there was only one thing left to give to him who so piteously begged for alms at the Beautiful gate. Had he faith to reach out for it? Then Peter said, "Look on us;" and to the uplifted thought there must have come the longing for heavenly riches, for he grasped the hand extended to raise him out of his helpless condition, and through the Beautiful gate of healing entered with the apostles into the temple.
The spiritual meaning of the word "temple" is thus given by Mrs. Eddy in Science and Health (p. 595): "Body; the idea of Life, substance, and intelligence; the superstructure of Truth; the shrine of Love." Any gateway which leads to this understanding of "temple," is adorned with a beauty which neither burnished brass nor marble column can approach. In a poem of exquisite grace, James Russell Lowell has personified the Beautiful gate in a legend which tells how a knight, returning impoverished from a lifelong search for a traditional treasure—the cup out of which the Master partook of the last supper with his disciples— found the healing Christ at his own threshold while he shared his brown crust and bowl of water with a leper at the gate, when lo,
A light shone round the place;
The leper no longer crouched by his side,
But stood before him glorified,
Shining and tall and fair and straight
As the pillar that stood by the Beautiful
Gate.
In each and every consciousness there is a gate called Beautiful; but as with the legendary knight of old searching for material treasures, or the cripple of Pentecostal days, years of sickness, suffering, possibly of wandering, may elapse before one learns to look away from perishable things, and to search in the straight and narrow way of spiritual living for the Beautiful gate which leads into the kingdom of heaven on earth. Sometimes this spiritual realization comes through prayer and consecration ; sometimes through bravely facing the difficult places in daily life; often by breaking one's bread with another in need. At times one may see this Beautiful gate afar off and steadily advance towards it; or, again, he may come upon it suddenly at some bend of the road, and at once lose his former mistaken sense of values. Each one in his own way is advancing towards a gateway which some day he will call Beautiful, because it will lead him "at the hour of prayer" into the temple of God.
No stately pillars marked the spot where Jacob saw the ladder which reached from earth to heaven, saw the messengers of God as angels ascending and descending upon it, and heard the voice of God awakening him to a sense of enlarged opportunities and greater responsibilities, and assuring him of divine guidance. Yet, in the dawning light, as Jacob lifted his head from the stony pillow upon which it had rested, he exclaimed, "This is none other but the house of God, and this is the gate of heaven." Alone in the desert at night, with only the stars as sentinels, Jacob had found the gate Beautiful, the way to heaven or harmony, and, afterwards, in all his wanderings, and through many a sorrow, he never forgot the spiritual vision.
In home or office, in prison or mansion, in the depths of the earth or on the heights above the earth, on the sea or in the desert, one may find this Beautiful gate of spiritual inspiration. It stands in the plain, straight road of common duties lovingly performed, of fair-play business methods, of magnanimous conduct, of healing the sick and comforting the sorrowing. Wherever Truth is revealed, the gateway opening to it is always beautiful, although at the time one may not be conscious of its loveliness. Saul of Tarsus came suddenly upon the gate Beautiful at noonday, while on the road to Damascus, whither he was going to persecute the followers of Jesus. No visible archway marked the spot where the "light from heaven" shone round about Saul, and where he heard the voice of Truth; but the revelation of man's high estate as a child of God was so wonderful to him that for the time being he lost his sense of earthly sight. After Saul had been healed of this blindness, his entire nature was so altered that his name was changed to Paul, and he found himself a "chosen vessel" designed to carry the gospel of Jesus the Christ to the Gentile world. In the loftiness of his zeal, Paul later wrote: "Who shall separate us from the love of Christ? shall tribulation, or distress, or persecution, or famine, or nakedness, or peril, or sword? . . . For I am persuaded, that neither death, nor life, nor angels, nor principalities, nor powers, nor things present, nor things to come, nor height, nor depth, nor any other creature, shall be able to separate us from the love of God, which is in Christ Jesus our Lord."
Believing that these words of Paul, and other similar Bible statements, were literally true, and that the healing works of Jesus were demonstrable in every age, Mary Baker Eddy found the gate Beautiful along the road of faith in the power of God's Word rightly understood. With her textbook, the spiritual interpretation of the Word of God, Mrs. Eddy has reopened all the jeweled gates into the city which lieth foursquare, the New Jerusalem, in which there is no material temple or body, no need for light of sun or moon, no necessity for unremitting toil, no limitation, no struggle for wealth or position. In this city there is no crying, no dying, no sin, no sickness, for it is entered through the Beautiful gate of spiritual understanding. No river of Lethe or death separates this holy city from man; for it is the kingdom or knowledge of God come down to earth, as the Revelator foresaw.
Many people even now are conscious of their active citizenship in this city of God; and they are going about, as did Jesus when he dwelt among men, healing the sick, cleansing impure thoughts, comforting those who are bowed down with grief and care. Such workers, having the Mind "which was also in Christ Jesus," joyously appreciate the truth as revealed in Christian Science and expressed in Mrs. Eddy's words in "The First Church of Christ, Scientist, and Miscellany" (p. 132): "Divine Love hath opened the gate Beautiful to us, where we may see God and live, see good in good,—God all, one,—one Mind and that divine ; where we may love our neighbor as ourselves, and bless our enemies." And she says further (p. 133): "Ofttimes I think of this in the great light of the present, the might and light of the present fulfilment. So shall all earth's children at last come to acknowledge God, and be one; inhabit His holy hill, the God-crowned summit of divine Science."
Fin
You are invited to join us for our Christmas Sunday church service at the Encinitas Reading Room in person or on
zoom
 Sunday mornings at 10 am PT. To let us know you are coming, please email us at christiansciencenote@gmail.com and we can send a link to our meeting. After church we have an open discussion about the week's Bible lesson and/or testimonies of healing and comments and questions about Christian Science.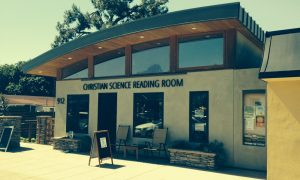 Phone (760) 753 4545
912 S. Coast Hwy. 101, Encinitas, CA 92024
If you would like to receive information from our Christian Science Society of Encinitas which includes notices about our events and services, please enter your email address to the right in the subscribe window.  It is free, and you will then be sent an email to confirm your subscription.