E Pluribus unum, where have you seen this?  Well look no farther than your pocket, it is printed on our money and it is what our system of government is based upon and is it's motto – Out of many, one.
Disturbing headlines about the state of the government in the US and other parts of the world can be paralyzing. But listen to this interview with Mark Sappenfield, Editor of The Christian Science Monitor, where he indicates that instead of being paralyzing, it can be galvanizing. What can an average citizen do to improve government? listen here to explore the possibilities.
You are also invited to join us for our Sunday church service at the Reading Room this Sunday in person or on zoom at 10 am PT. To let us know your coming, please email us at christiansciencenote@gmail.com . We meet for an hour and then have an open discussion about the week's Bible lesson and/or testimonies of healing and comments and questions about Christian Science.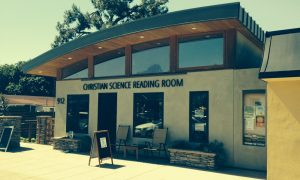 The Encinitas Reading Room is currently open by appointment only.
Phone (760) 753 4545
912 S. Coast Hwy. 101, Encinitas, CA 92024
If you would like to receive information from our Christian Science Society of Encinitas which includes notices about our events and services, please enter your email address to the right in the subscribe window.  It is free, and you will then be sent an email to confirm your subscription.