You are invited to join us for our Sunday church service at the Reading Room or next week on zoom at 10 am PT. To let us know your coming, please email us at christiansciencenote@gmail.com and we can send a link to our meeting. We meet for an hour and then have an open discussion about the week's Bible lesson and/or testimonies of healing and comments and questions about Christian Science. 
Also loin us this afternoon for

The Principia Club of Greater San Diego  annual Christmas Sing as we jingle and mingle in celebration of the season today, Sunday, December 12, 2021 2:30–4:30 p.m.  For more information and to RSVP, please contact Jeff Scott at jeff.scott.sd@gmail.com or call 619.992.5104.Please feel free to bring a plate of your favorite Christmas cookies to share. Come enjoy this beautiful indoor/outdoor space as we sing and celebrate together.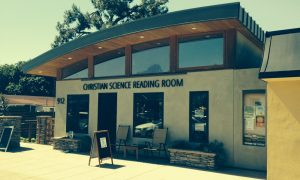 The Encinitas Reading Room is currently open by appointment only.
Phone (760) 753 4545
912 S. Coast Hwy. 101, Encinitas, CA 92024
If you would like to receive information from our Christian Science Society of Encinitas which includes notices about our events and services, please enter your email address to the right in the subscribe window.  It is free, and you will then be sent an email to confirm your subscription.