The whole event was fantastic…..  

– Kriss Nugent, event Curator
The event was very well attended.  In the afternoon people came who were relatives and friends of the artists and then it grew. As the day went on it got crowded.
When the music started nobody wanted to leave. The jazz band was absolutely fantastic. Really accomplished pianist and drums and bass. We can't say enough about the music. People all sat on those big rocks and the stairway.  We had chairs up in the reading room to look at the movie of students' interviews. We also had on the TV in the Sunday School area information about Christian Science and it's resources. People from Encinitas started coming through about five and they were all enthusiastic that the place was open.   We had our own circus Barker who herded them in from the front.  Of course they couldn't resist and they came on in. The flow through the garden down to the covered area and up out on the deck was perfect.
We had up about 14 easels along the deck.  For the artists it was a really huge deal. We had an explanation about the road to Emmaus at the front of the ramp inside the garden next to all the drawings that pertained to  it. Then the next section was devoted to David and Moses and the classics. And the end were portraits that people had accomplished after that.  Lots of visitors were interested in what  CHRISTIAN SCIENCE was and were very interested in finding out. There were Journals and Sentinels that were taken as gifts to help them understand.  One person has a prayer meeting who was very interested in the using the periodicals. 
Visitors were shown the Sunday School nook and were explained that we teach the Bible, which includes the 10 Commandments and the Lord's Prayer and the beatitudes, etc. Most of the people that came before five were concerned about their families and their student who had been in Kris's class.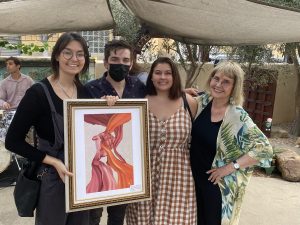 They had seen such a dramatic positive change in their student that they wanted to talk to me about it. -KN
This was a wonderful opportunity for people to come to the reading room and see that it is a lovely healing community center open to all.  Lots of action with younger people in their 20s or just starting college who wandered in and felt welcome. And they stayed and had a great time!
Phone (760) 753 4545

912 S. Coast Hwy. 101, Encinitas, CA 92024

If you would like to receive information from our Christian Science Society of Encinitas which includes notices about our events and services, please enter your email address to the right in the subscribe window.  It is free, and you will then be sent an email to confirm your subscription.