We all have our stories about the past year. Some might be about frustration or fear, others about resilience or hope. And yet, I've come to see all of them as learning experiences.
One of these occurred when my husband and I were stuck behind closed borders after traveling to Canada in March 2020. Unable to get back to our home in the United States because of pandemic travel restrictions, we felt blessed to meet Canadian neighbors who befriended and assisted us.
Like millions around the globe, we turned to computer apps to stay connected to family, friends, and coworkers during the isolation. As we compared notes on the challenging time we all faced, I realized I was believing that I was on a mental roller coaster, trying to keep up with what was
happening locally, at home, and around the world.
When I saw that I had a choice whether to ride up and down or be still and pray, a question occurred to me: "What am I spreading—fears and worries, or the good news of our God, who is divine Life, Truth, and Love?"
This question necessitated honesty as to what I was believing. I started to examine my thinking moment by moment to see where my focus was—on the distressing human scene, or on the ever-present good news of God—divine Spirit, Mind—and His love.
The Christ is here today to awaken us from any hypnotic dream or lie about our true being and God-maintained safety.
St. Paul says, "The peace of God, which passeth all understanding, shall keep your hearts and minds through Christ Jesus" (Philippians 4:7). This spiritual consciousness doesn't include sickness, terror, anger, disdain, or division, but only love for and obedience to the one God, who created us all. Demonstrating this Christly state of thought in our daily life means being a spreader of good news, not a bearer of bad news.
During daily walks with our Canadian neighbors, instead of joining discussions of disease and media reports describing discord, I learned to listen for opportunities to share the good news of our wholeness and integrity as God's expression, made in His image and likeness, as the Bible says.
For example, one day when the talk turned to mental health and politics, I related a true story about a hypnotist going around to each table at a business banquet, attempting to hypnotize individuals to do silly things to entertain the crowd. A couple who were Christian Scientists were the only guests at the dinner who did not respond to the hypnotist's suggestions. The wife said later that when the hypnotist reached her table, she was silently affirming that God is the only Mind, and that man does not need or want to succumb to intrusive mental suggestions. Her resistance was a protection against mental manipulation.
As we walked with our neighbors, this story led to a conversation about the importance of doing our own thinking in order to avoid being manipulated. I shared this statement by Mary Baker Eddy from her textbook on Christian Science, Science and Health with Key to the Scriptures: "The time for thinkers has come" (p. vii).
When governments began strongly recommending or even mandating that face masks be worn, I realized that compliance doesn't stop us from spreading the good thoughts we think or the love we live. Such compliance, when motivated by love for our neighbors and our communities, can only support us in practicing the Science of Christ with the expectation of healing hearts, minds, and bodies. Mrs. Eddy states, "Genuine Christian Scientists are, or should be, the most systematic and law-abiding people on earth, because their religion demands implicit adherence to fixed rules, in the orderly demonstration thereof" (Retrospection and Introspection, p. 87).
While vaccinations are being administered around the globe in an effort to protect people from the coronavirus, we can go back to the question, "What am I spreading? Am I spreading the good news of God's glory?" Divine Love, which includes no evil, confers the only real protection against disease—and we can understand and claim this immunity as God-given. When we know ourselves and others to be the expression of immortal Spirit, divine Love, we're less susceptible to material beliefs, including sickness and sin. The Christ is here today to awaken us from any hypnotic dream or lie about our true being and God-maintained safety.
Nothing can stop the spread of God's pure thoughts among all His children. And it's our job to reflect that purity in thought and life. As Paul instructs, "Brethren, whatsoever things are true, whatsoever things are honest, whatsoever things are just, whatsoever things are pure, whatsoever things are lovely, whatsoever things are of good report; if there be any virtue, and if there be any praise, think on these things" (Philippians 4:8).
Mrs. Eddy echoes that teaching in an article included in The First Church of Christ, Scientist, and Miscellany: "Beloved Christian Scientists, keep your minds so filled with Truth and Love, that sin, disease, and death cannot enter them. It is plain that nothing can be added to the mind already full. There is no door through which evil can enter, and no space for evil to fill in a mind filled with goodness. Good thoughts are an impervious armor; clad therewith you are completely shielded from the attacks of error of every sort. And not only yourselves are safe, but all whom your thoughts rest upon are thereby benefited" (p. 210).
We can't force Truth and Love on the world—and we don't need to. Our role is to be witnesses to the present perfection of God, divine Truth and Love, and His creation, to "speak as the oracles of God" (I Peter 4:11). We do this when we allow God's law of harmony to govern us, for in reality, Love reigns and is All. And we can spread this divine good news wherever Love leads us to.
You are invited to join us for our Sunday church service on zoom every Sunday at 10 am PT. To join please email us at christiansciencenote@gmail.com and we can send a link to our meeting. We meet for an hour and then have an open discussion about the week's Bible lesson and/or testimonies of healing and comments and questions about Christian Science.  If you would like to join us send us an email or call 541 753 6395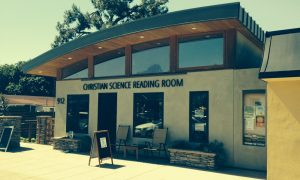 The Encinitas Reading Room is currently open by appointment only.
Phone (760) 753 4545
912 S. Coast Hwy. 101, Encinitas, CA 92024
If you would like to receive information from our Christian Science Society of Encinitas which includes notices about our events and services, please enter your email address to the right in the subscribe window.  It is free, and you will then be sent an email to confirm your subscription.