BLESSED BY THE CHRISTIAN SCIENCE MONITOR is a recent article by local Christian Science Practitioner Marsha Pecaut CS published from the September 2017 issue of The Christian Science Journal
"..….. I knew that I had to pray about this situation and clear up another view—my personal "view" of the situation. It had always been my experience that prayer is most effective when we listen for God's plan and then take action, so I humbly asked God what I should do to heal this conflict."
Click here to read the whole story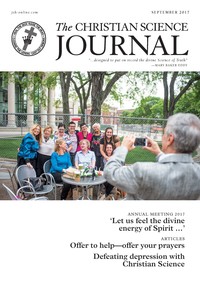 The Christian Science Journal is an official monthly publication of the Church of Christ, Scientist through the Christian Science Publishing Society, founded in 1883 by Mary Baker Eddy. It is designed to demonstrate the practical applications of Christian Science healing practice.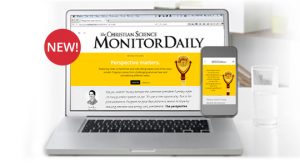 The Christian Science Monitor (CSM) is an international news organization that delivers global coverage via its website, weekly magazine, daily news briefing, email newsletters, Amazon Kindle subscription, and mobile site. It was started in 1908 by Mary Baker Eddy, the founder of the Church of Christ, Scientist. As of 2011, the print circulation was 75,052.[1]
The Monitor is a daily newspaper that covers international and United States current events. The paper includes a daily religious feature on "The Home Forum" page, but states the publication is not a platform for evangelizing.[2]
In 2008 the Monitor discontinued its daily print version to focus on web-based publishing, replacing its daily print edition with a weekly news magazine with an international focus.[3] Mark Sappenfield became the editor in March of 2017.[4]
This information is provided by the Encinitas Christian Science Reading Room
Click here for more information about the Reading Room at www.Mindheals.us
Phone (760) 753 4545
912 S. Coast Hwy. 101, (just South of H Street – across from Starbucks), Encinitas, CA 92024
If you would like to receive information from our Christian Science Society of Encinitas which includes notices about our events and services, please enter your email address to the right in the subscribe window.  It is free, and you will then be sent an email to confirm your subscription.