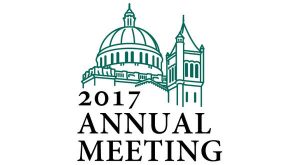 Annual Meeting 2017
This year's theme is "Let us feel the divine energy of Spirit, bringing us into newness of life …" (Science and Health with Key to the Scriptures, p. 249:6-7).
The meeting will be held in the Extension of The Mother Church in Boston and broadcast live online Monday, June 5, at 1:00 p.m. EDT. (You can find your local time on this World Clock). You're welcome to come to Boston to view it in person (please see Weekend Guide) or to watch it online in your community. A video replay will be available within 24 hours.
Messages from the Christian Science Board of Directors
---
What are the events this year?
There will be other events starting Saturday, June 3 through Monday, June 5. A list of events (below) will include information about how they will be shared online. The replays for the online events will be available within 24 hours of their conclusion and available for one year.
All events will be available via live webcast
Saturday, June 3, 2:00-3:30 P.M.
Practice that truly heals
The ever-new energy for the Christian Science movement flows from our practice of Christ-healing. In this session, members share how they began a public practice and continue in this work that is most essential to the transformation and salvation of the world.
Saturday, June 3, 7:00-8:30 P.M.
The Christian Science Monitor: uplifting the spirit of humanity
On the subject of feeling this energy, there's a lot to talk about with The Christian Science Monitor. With a new direction and format for the Monitor, we'll explore how vital each member is to its success. Please click here for more information and to RSVP.
Sunday, June 4, 1:30-3:00 P.M.
Christian Science Associations: a force for good
Dive deeper with us in how Christian Scientists come together as ongoing Association families that invigorate our Cause and bring healing to humanity.
Monday, June 5, 1:00-3:00 P.M.
Annual Meeting
Please join us in Boston or online for our Annual Meeting.
---
Trouble viewing the webcast?
Here are some simple steps on our Webcast help guide to help resolve the problem. The webcast can be viewed on a computer and on IPads, IPhones, and Android devices, in many, but not all cases.
---
Will Annual Meeting be interpreted into other languages?
All the meetings will be in English. By Thursday, June 15, a replay of Annual Meeting in French, German, Portuguese, and Spanish will be available for you to watch online. Also, The Herald of Christian Science will include a report.
---
Listen by telephone?
While we hope people will be able to see the video of the live webcast, we understand that there are a few cases where that isn't possible. You can listen to the live webcast of Annual Meeting and most of the events by calling 641-715-3670, access code 767519#. There will not be any replays via phone.
---
View or read about Annual Meeting afterwards?
The replays of Annual Meeting and most of the events will be available within 24 hours after the live Annual Meeting webcast ends on June 5. The downloads will be available about a week later.
You can replay the Annual Meeting video webcast or download it to your computer or mobile device for one year after the event. The Annual Meeting videos are only available for one year due to copyright restrictions. The replays of the events are also available for one year.
There will be a report about the meeting in the September issue of The Christian Science Journal as well as a shorter report in issues of the French, German, Portuguese, and Spanish Heralds. The four interpretations dubbed on the video will be available on June 15.
---
Want to share information about Annual Meeting?
You can can send friends information about the meeting or invite them to join with you to view the meeting together. A branch church or society may choose to share information in a newsletter to members, post information on bulletin boards, mention the event at meetings, host a gathering for members and friends to view the meeting together, mention it in desk announcements, put information about it in the Reading Room, and let members who don't have computers know where they can see the webcast.
---
More questions?
If you are planning to come to Boston to attend the meeting in person, please go to Weekend Guide. You can also email questions to AnnualMeeting@christianscience.com or call 1-800-288-7155 or +1-617-450-3481 (outside US/Canada). Our staff answers the phones Monday through Friday from 9:00 a.m. to 4:15 p.m. EDT.
This information is provided by the Encinitas Christian Science Reading Room
Click here for more information about the Reading Room at www.Mindheals.us
Phone (760) 753 4545
912 S. Coast Hwy. 101, (just South of H Street – across from Starbucks), Encinitas, CA 92024
If you would like to receive information from our Christian Science Society of Encinitas which includes notices about our events and services, please enter your email address to the right in the subscribe window.  It is free, and you will then be sent an email to confirm your subscription.