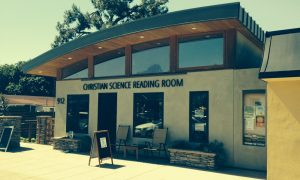 Last night's monthly Third Thursday event was well attended.  We started off the night with some great inspiration at the Testimonial meeting at 6:00pm.  The readings were on "Love and peace bring forgiveness"  with readings from the Bible and Science and Health with Key to the Scriptures by Mary Baker Eddy.  We had the sweet sounds of a flutist accompanying us during the music played at the service.  Then there were well thought out and thought provoking testimonies of healing through the application of Christian Science practice. The testimonial meeting ended at 7:00pm and everyone stayed for Pizza, Treats, and hot cider.  Thank you to Oggi's Pizza in Encinitas for the discounts on our Pizzas and to St Tropez Bistro across the street for the delicious treats.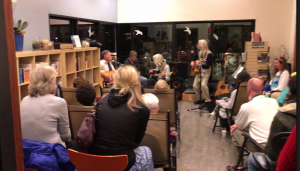 Then at 7:30pm we were treated again to the sound of one of our favorite bands – The Tony Fleet Project.  Tony and his crew had us dancing and singing along to some of their original music and to some old time classic favorites.
We had a wide range of people join including new friends off the street and visitors from around the world.  It was great to witness people during the music discovering for the 1st time and reading Science and Health and Sentinel articles in both English and German.  There were also lots of passersby inquiring about what was going on and asking about Christian Science.
Next month's event on March 16, NOT  TO  BE  MISSED, will be a special evening featuring the lovely harp music of Naomi Alter.  We will then get to enjoy hearing her play the harp and sing in an exclusive concert.  And as a bonus surprise she will have a guest flutist duet with her for some of the tunes.
*Our Third Thursday concert series are an alcohol free and family friendly event.  It's an alternative venue for people to come and hear some great music and have free pizza. You can come to part or all of the evening's events. Testimonial meetings are open for all to attend. There is music and singing, prayer, spiritual readings, and you'll also hear fellow attendees share insights, experiences, and testimonies of healing they've had as a result of their prayer and study of Christian Science.
**Also, please join us for our Church service on "Mind" this Sunday, February 19th, at 4:00.  We will have special guest Justin Froese on the guitar and local favorite soloist Elizabeth Griswold leading the service's music and performing a duet for our solo.
Click here for more information www.Mindheals.us
Phone (760) 753 4545
912 S. Coast Hwy. 101, (just South of H Street – across from Starbucks), Encinitas, CA 92024
If you would like to receive information from our Christian Science Society of Encinitas which includes notices about our events and services, please enter your email address to the right in the subscribe window.  It is free, and you will then be sent an email to confirm your subscription.