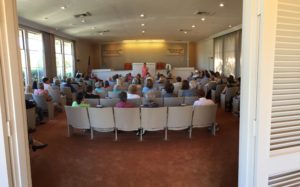 Lois Rea Carlson, CSB (Christian Science teacher and practitioner) spoke on The Healing Power of Unselfishness in the Rancho Santa Fe church last Saturday to a packed house.  Her message was on point and a reminder to us all of the importance of being unselfish.
Click here to see a You Tube excerpt of her talk.
She gave a powerful personal testimony of healing of anemia, diagnosed by a doctor who gave her a week to have Christian Science treatment before he would begin his medical treatment.  Upon returning to his office she was, much to the doctor's amazement, given a clean bill of health.
You can find Lois on her website at Loiscarlson.com