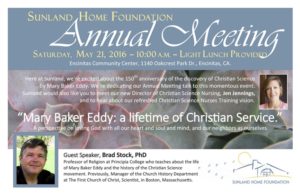 Sunland's 61st Annual Meeting this coming Saturday, May 21st at 10 a.m. at the Encinitas Community Center,
1140 Oakcrest Park Dr., Encinitas, CA.    Directions
In honor of the 150th anniversary of the discovery of Christian Science by Mary Baker Eddy, Sunland Home Foundation is dedicating its Annual Meeting to this momentous event.
Featured speaker, Brad Stock, professor of Religion at Principia College who teaches about the life of Mary Baker Eddy and the history of the Christian Science movement, will give a talk entitled:
"Mary Baker Eddy: a lifetime of Christian Service."
A light lunch will be provided. We hope to see you there.
With gratitude and love from all of us here at Sunland Home.