Drew Stiles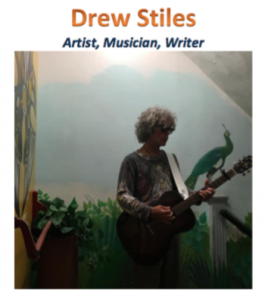 Drew Stiles is a music artist, composer and performer, originally from New York and now residing in Los Angeles. He will be playing for us on January 16,2020 for our Third Thursday concert/ gratitude meeting.
The evening will start off at 5:00pm with a Testimonial meeting followed by music and free pizza at 6:00.
Testimonial meetings are open for all to attend. There is music and singing, inspirational readings, and you'll also hear fellow attendees share insights, experiences, and healing they've had as a result of their prayer and study of Christian Science.  Click here a video example of what you might hear at a Christian Science Testimonial meeting.
Drew Stiles formed and joined bands as writer, singer and bassist-guitarist starting in the early 90's after seeing Bad Brains, Fishbone, Meat Puppets, RHCP, Black Flag, Beastie Boys and others in the 80s punk scene. The honesty of rap, NWA, PE, Ice Cube, etc, heavily factored in, along with early influences Jackson 5, Beatles, Hendrix, Earth Wind and Fire, Zeppelin, Stones, James Brown, jazz, classical, funk, pop, etc.
He landed a major label deal (A&M Records) and a production deal (Shark Management) with bands Gin Gypsy and Smoothbrain. Stiles then formed the raw power trio, Yummy, who released an album on indie label Cross Records.
YUMMY:
Yummy's album, 'Eleganté,' produced and written by Stiles, garnered outstanding reviews and fan response. JUICEMagazine gave the band a rating of '10 out of 10,' Rock N World wrote 'Not since Guns N Roses have I heard a more dynamic debut album.' And of Yummy's performances The Jersey Journal wrote,' Drew Stiles is part Iggy andpart Steven Tyler, a consummate showman who knows how to work an audience into a laughing, sweating frenzy.'
Venues played include CBGB's, Webster Hall, Nightingales, Brownie's, Arlene's Grocery, Wetlands, L'Amour, Whisky a'Go Go and many others in Vermont, Mass, New York, Philly, D.C, South/North Carolina, California. Yummy also played Madison Square Garden and the Boston Fleet Center with WWE.
Yummy was featured in a national print ad for Panasonic, appearing in Rolling Stone, SPIN, Maxim, GQ, Vibe, ESPN,Details magazines, as well as being featured in a TV commercial for Panasonic with Stiles' song "King."
Film and TV have included Stiles' music, as both original scores and Yummy songs, winning awards at Telluride,Toronto, Austin, Hampton and Nantucket Film Festivals.
Our Third Thursday concert series are an alcohol free and family friendly event.  It's an alternative venue for people to come and hear some great music and have free pizza.
Phone (760) 753 4545
912 S. Coast Hwy. 101, (just South of H Street – across from Starbucks), Encinitas, CA 92024
If you would like to receive information from our Christian Science Society of Encinitas which includes notices about our events and services, please enter your email address to the right in the subscribe window.  It is free, and you will then be sent an email to confirm your subscription.