Collapsed vertebrae fully healed By Sally Lind
Teaching a weekly Christian Science Bible class at a military base for young recruits of the United States Marine Corps has been a deeply fulfilling experience for me for a number of years. The young Marines, who come from all religious backgrounds, arrive at this class on Sunday mornings usually tired and sleepy from a hard week of training using weaponry and marching long distances over difficult terrain. In this Bible class they learn that they can tap into a power other than their own supposed limited physical power—the only real power in the universe, which is God, who is good. They often find an awakened desire to discover how God's power can supply them with spiritual strength.
I have been struck by how some of the recruits have realized, because of the difficulty of their training, that they would like to have a more solid moral and spiritual foundation than they've ever had before. Many of these young Marines have a deep receptivity to spiritual ideas and a desire to be and do good.
Sometimes these recruits have come to me describing a physical difficulty they are dealing with, and I have asked if they wanted me to pray for them. When they have said yes, I have shared some words of encouragement that God can heal everything, and I have agreed to pray for them according to the spiritual truths explained in Christian Science; and I've expected healing. Many healings did occur after I prayed for them. Pinkeye, colds, coughs, and stress are just a few examples of what has been handled and healed with God's care.
A little over a year ago I was afraid I might have to stop teaching this Bible class, because I became unable to move after I collapsed in pain one morning while getting out of bed. I was able to reach my phone, and I called a friend who is a Christian Science practitioner to pray for me. Soon I was able to get back in bed. I knew I was being presented with the untrue suggestion that I could be separated from God's goodness. However, it felt as though there were several areas where bones had broken.
For a few days I stayed mostly in bed, with my daughter helping me get up and move around when needed. Then, in the middle of the night, I fell again and couldn't move. My daughter and her husband came over right away to help me. When they couldn't move me because I was in extreme pain, they called an ambulance, and they took me to the emergency room of a local hospital. A doctor explained to me that three vertebrae in my spine had collapsed. He said my choices were to either cement the bones together or just "manage the pain."
I accepted neither of those choices, and I was able to go home that day. I thought back on the healings some of the Marines had received through prayer, and I began to affirm the universal power of God to heal all ills. In my life I had seen all kinds of physical difficulties yield to spiritual truth. Through Christian Science my mother had been healed of painful migraine headaches, and my dad had been completely healed of addictions to alcohol, tobacco, and gambling. As I was growing up, I had been healed quickly of poison oak. As I reflected on all the healing I had experienced and witnessed in my life, I finally reached the mental place where I knew I was going to experience this healing, too.
With the help of a Christian Science practitioner, I gradually began to perceive and know the truths that God, divine Mind, was imparting to me. I began to know that matter, or bones, never identified me as God's child, God's spiritual idea, but that Mind sustains and controls me and meets all my needs. I began to really identify myself as a spiritual idea with no material elements that needed fixing.
I also began to mentally let go of the testimony of the material senses and to hold steadfastly to the spiritual truth that God knew about me. The Bible says in Genesis, "God created man in his own image, in the image of God created he him; male and female created he them" (1:27). I knew that was always the truth about me, and that I could trust God would always keep me whole as His perfect image.
About three months later, I was asked to return to the hospital to have an X-ray taken to see if any surgery was needed. Since I'd been pain-free for most of that time, I agreed to go only out of love for all concerned, to show them that all was well. The X-ray showed that I had been completely healed!
However, the doctor suggested I exercise caution in my movements, as he thought the bones were brittle. I immediately prayed silently with a statement from the Christian Science textbook, Science and Health with Key to the Scriptures by Mary Baker Eddy: "Bones have only the substance of thought which forms them" (p. 423). In describing some of the results of her own healing practice, Mrs. Eddy wrote that "carious bones have been restored to healthy conditions" (Science and Health, p. 162). This gave me hope that the healing would be complete through the love and power of God, Mind.
In the weeks following, I listened for spiritual ideas from Mind, and I held steadfastly to spiritual truths. I kept a diary of these spiritual truths for several weeks to secure my trust and deepen my understanding that I am a spiritual being created and maintained by God, and that nothing had happened to change that fact. I had to admit that my actual being wasn't material, but completely spiritual, and that what seemed to have gone on in matter was actually only a false belief about me as being mortal instead of immortal.
I thought about the word belief for a while and then wrote in my diary: "False beliefs about me are brought about by wrong human theories of my origin and substance as material instead of spiritual. They are brought on by lack of spiritual light or truth. I don't have to die out of matter to find the spiritual light that can flood consciousness with divine truth. I am spiritual right now, and the Science of the Christ brings this light to my consciousness right now." I remember the lightness that followed when I let those truths into my consciousness and accepted them.
I also found in Proverbs: "The commandment is a lamp; and the law is light; and reproofs of instruction are the way of life" (6:23). I saw clearly that whatever I was experiencing could only work to promote and further my spiritual growth in understanding the Life that is God. I had been presented with an opportunity to demonstrate the spiritual truths I had professed in the Bible class, and I was so grateful to demonstrate those truths.
Gradually, right and normal activity was restored in all areas of my life, and I was able to resume teaching the Bible class at the Marine base. The healing has been complete for over a year, and it has given me the freedom to use my back to do all the activities that I have always done, without thinking about limits, and it has also given me the added certainty that nothing ever happened to break my spiritual connection to my Father-Mother God. I am deeply grateful for God's loving care for me as His spiritual idea, and for my continued forward progress and growth in my understanding and demonstration of Christian Science.
Sally Lind
Encinitas, California, US
join us for a gratitude//Testimonial meeting where people will share experiences like Sallys.  Testimonial meetings are similar to a Sunday services, but the Scriptural selections are customized to the needs of the congregation and occasion.  You'll also hear fellow attendees share insights, experiences, and healing they've had as a result of their prayer and study of Christian Science.  The readings will be on overcoming adversity
Every Wednesday evening most Christian Science churches or Societies come together to hear and share how they were healed and their life made better through the application of Christian Science.  This will be an example of one of those meeting tomarrow tonight
Also following the meeting

Sarah Rogo preforms for us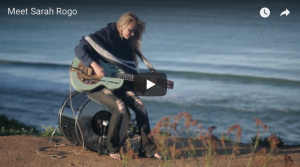 Sara was nominee for Best Singer-Songwriter at the 2017 San Diego Music Awards. She takes her inspiration from nature and the nearby ocean, always writing outdoors, where inspiration can strike at any moment, and usually does. "I'm fueled by nature. When I'm writing or wandering the woods or the beach I can hear the whisperings of my heart. There are melodies in nature and I scoop them up and take them home."
Tor find a Wednesday night church service in your area by clicking here.
Our Third Thursday concert series are an alcohol free and family friendly event.  It's an alternative venue for people to come and hear some great music.
Phone (760) 753 4545
912 S. Coast Hwy. 101, (just South of H Street – across from Starbucks), Encinitas, CA 92024
If you would like to receive information from our Christian Science Society of Encinitas which includes notices about our events and services, please enter your email address to the right in the subscribe window.  It is free, and you will then be sent an email to confirm your subscription.