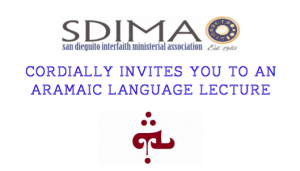 You are invited, to come hear Roy Gessford, share about:
ARAMAIC, A SEMITIC LANGUAGE ESSENTIAL TO UNDERSTANDING THE SACRED TEXTS OF JUDAISM, ISLAM, AND CHRISTIANITY IS NEARING EXTINCTION.
Friday February 28, 20207 – 8 pm.
at: SEASIDE CENTER FOR SPIRITUAL LIVING 1613 LAKE DR. ENCINITAS, CA
Aramaic scholar, Roy Gessford, will share his insights into the relevance and basic structure of Aramaic. Roy is a Master of Arts in Interfaith Action candidate and has been studying Semitic languages for twenty years.
This lecture is complimentary. Participants will receive a free copy of Read and Write Aramaic, by Cuyamaca College Aramaic professor Michael Bazzi.
Born and raised in Los Angeles, Roy graduated in 1994 from the University of California, San Diego, with a degree in Urban Studies and Planning and minors in Law, History, and Economics. In 2012, Mr. Gessford earned a Multiple Subject Teaching Credential from the State of California. His graduate work has included courses in Hebrew, Greek, and Aramaic. He has ministered at the Monterey County Jail and for the United States Marine Corps Recruit Depot in San Diego. Roy's current lecture topics include Essential Leadership Qualities and The Lord's Prayer in Aramaic. Roy is currently working on his Masters Degree in Interfaith Action at Claremont Lincoln University.
RSVP your Complimentary Ticket on EventBrite at:
Encinitas, CA Roy Gessford Events | Eventbrite
https://www.eventbrite.com/e/an-aramaic-language-lecture-tickets-94549507121
If you would like to receive information from our Christian Science Society of Encinitas which includes notices about our events and services, please enter your email address to the right in the subscribe window.  It is free, and you will then be sent an email to confirm your subscription.